Official Launch: The Chinese Translation Of 'Cultures And Organizations: Software Of The Mind (Third Edition)'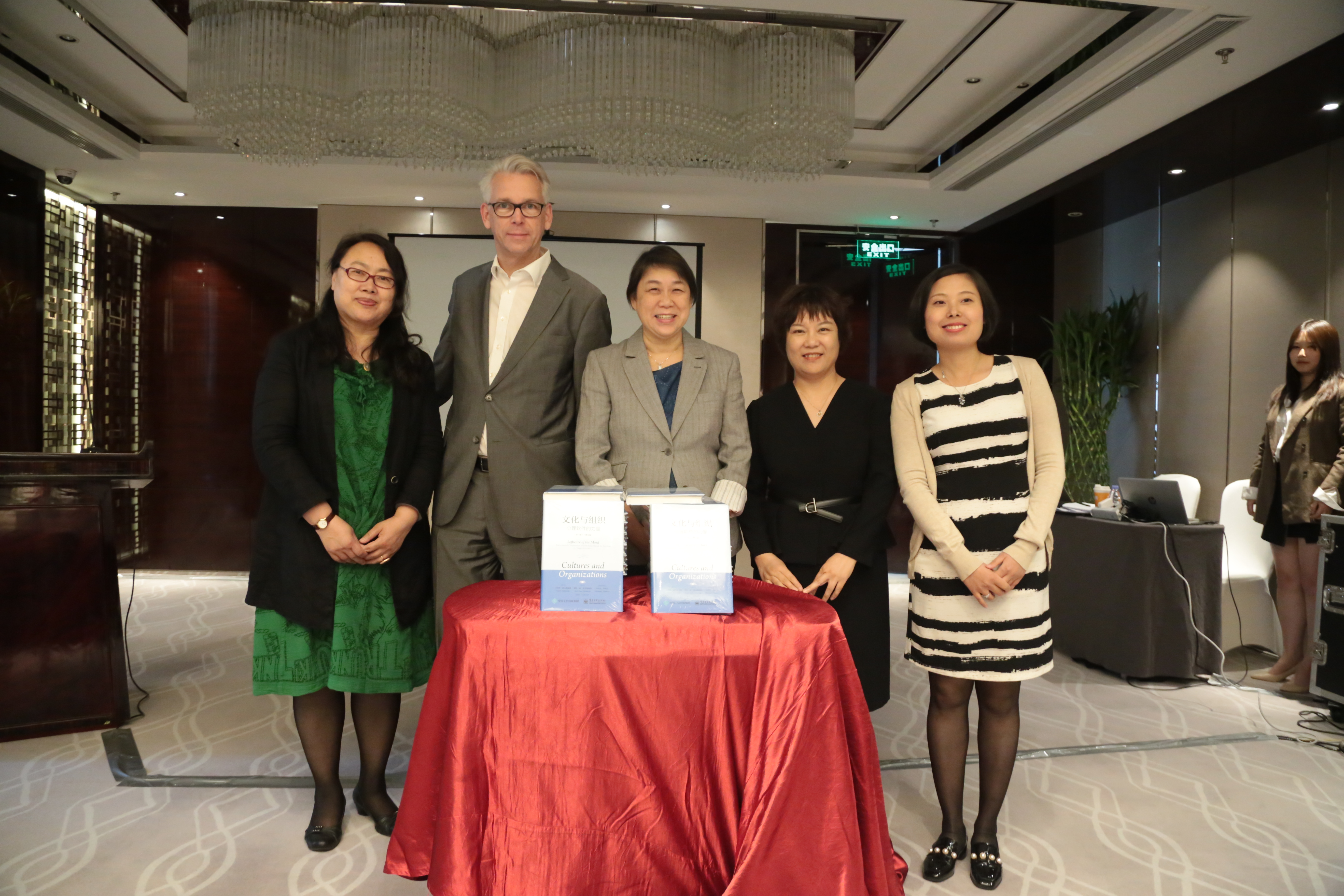 The first two editions of 'Cultures and Organizations: Software of the Mind', saw translations of up to 21 different languages with more than 500,000 copies sold. This year, we are proud to celebrate the official Chinese translation of the acclaimed bestseller 'Cultures and Organizations: Software of the Mind (Third Edition)' by Geert Hofstede, Gert Jan Hofstede and Michael Minkov.
The third edition is brought to you by the publisher, Ms Yubo Fu from Beijing Century-Vision and translated by Professor Zhang Wei, from the University of International Business and Economics and Dr. Wang Shuo from the University of Eastern Finland. Professor Hofstede has cited it as the best version amongst his Chinese translated books, "I know the translators both very well and it is done by a company that also publishes for business in Shanghai...I thank the zealous translators of this new edition for their work."
The book launch event which took place on the 10th of May in Beijing, represented a major milestone in China that celebrates and recognizes the significance and impact of intercultural research in the realm of cross-culture and psychology.
Culture In The Workplace™(CW), a line of business of ODE Consulting®, is the global licensee of Professor Geert Hofstede's research and is fully endorsed to represent and apply his body of research to workplace challenges. Dr Kavita Sethi, Master Certifier and Principal Consultant, shared the value of Professor Hofstede's research coming to life through their Hofstede Culture In The Workplace Questionnaire™ (Hofstede CWQ).
Based on over 40 years of licensed research and across more than 70 countries profiled, the Hofstede CWQ calibrates cross-cultural orientations across Prof. Hofstede's six dimensions of National Culture and allows respondents to discover valuable insights on team and organizational preferences for up to 15 workplace behaviours that leverages applied research based on his 6 Dimensions (e.g Decision Making, Leadership, etc.)
Bart Hofstede, Head of Culture, Communication and Education at the embassy of the Kingdom of the Netherlands in Beijing was also present to grace the momentous occasion as a keynote speaker and delivered a personal speech from Professor Geert Hofstede himself.
"This is the Chinese translation of the third edition of my book on national cultures, for practitioners. This book was first published in 1991; later, extended editions appeared in 2005 and 2010. In these latter editions my eldest son Gert Jan Hofstede acted as a co-author. It has so far appeared in 21 different languages, showing that the subject of "differences between national cultures" has become increasingly relevant, worldwide.
I think that the whole world will benefit from increasing insight into the importance of understanding differences in national cultures. Since the influence of China in the world is growing, it is essential that more Chinese practitioners gain insights in cultural differences. I hope my work will be a small contribution to better mutual understanding and friendship."

– Professor Geert Hofstede
Opening Video: 'Origins of my Research and the CWQ' by Professor Geert Hofstede
'Art, Diplomacy, Culture. Embracing Differences as a Vocation' by Bart Hofstede, Head of Culture, Communication and Education at the embassy of the Kingdom of the Netherlands in Beijing
'Driving Cultural Alignment – Discover, Understand and Reconcile Differences' by Dr Kavita Sethi, Principal Consultant and Hofstede CWQ Master Certifier
An interactive session to win copies of the Chinese translation of 'Cultures and Organisations, Software of the Mind', signed by Professor Hofste