The Hofstede Culture in the Workplace Questionnaire™ (Hofstede CWQ) is an online cross-culture tool that is based on the extensive research of and endorsed by Prof. Geert Hofstede.
Ranked by the Wall Street Journal to be one of the 21 most influential business thinkers alongside luminaries like Tom Peters, Stephen R. Covey and Malcolm Gladwell, Prof. Geert Hofstede conducted one of the most comprehensive studies of how values in the workplace are influenced by culture.
Through the publication of his scholarly book, Culture's Consequences (1980, new edition 2001), Geert Hofstede (1928) became the founder of comparative intercultural research. His acclaimed bestseller, Cultures and Organizations: Software of the Mind (1991, newest edition 2010, co-authored with Gert Jan Hofstede and Michael Minkov), has so far been translated into 21 languages.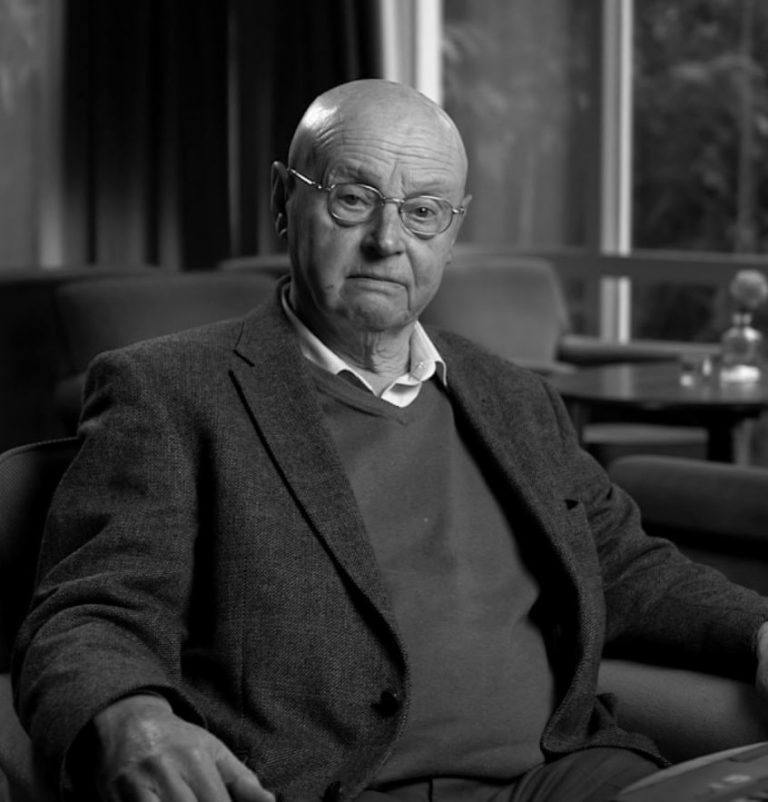 BASED ON OVER 45 YEARS OF RESEARCH ACROSS MORE THAN 70 COUNTRIES PROFILED
Developed in collaboration with Prof. Geert Hofstede and Dr. John Bing, the Hofstede CWQ, is a profiler designed to calibrate an individual's cross-cultural signature across Prof. Geert Hofstede's six dimensions of national culture.
INDIVIDUAL ORIENTATION VS GROUP ORIENTATION

The degree to which action is taken for the benefit of the individual, or the benefit of the group.
HIERARCHICAL ORIENTATION VS PARTICIPATIVE ORIENTATION

The degree to which inequality or distance between those in charge and the less powerful (subordinates) is accepted
NEED FOR CERTAINTY VS TOLERANCE FOR AMBIGUITY

The extent to which people prefer rules, regulations and controls or are more comfortable with unstructured, ambiguous or unpredictable situations
ACHIEVEMENT ORIENTATION VS QUALITY OF LIFE ORIENTATION

The degree to which we focus on goal achievement and work or quality of life and caring for others.
LONG TERM ORIENTATION VS SHORT TERM ORIENTATION

The extent to which members of a society are prepared to adapt themselves to reach a desirable future, or the extent to which they take their guidance from the past and focus on fulfilling their present needs and desires.
The tendency to allow relatively free gratification of basic human drivers related to enjoying life and having fun, or the conviction that such gratification needs to be curbed and regulated by strict social norms.
Calibrate Your Cross-Cultural Orientations
The Hofstede Culture in the Workplace Questionnaire™ (Hofstede CWQ), is designed to calibrate an individual's cross-cultural signature across Prof. Geert Hofstede's 6 Dimensions of National Culture.
It facilitates the comparison of individual culture orientations with selected country scores that they need to interact with at work; improving respondents' personal effectiveness by enabling them to develop a greater understanding of personal attitudes and values towards work.
The Hofstede CWQ, when coupled with personalized coaching or learning, is a powerful way to increase one's cultural sensitivity and more importantly, improve collaboration, business performance and personal effectiveness.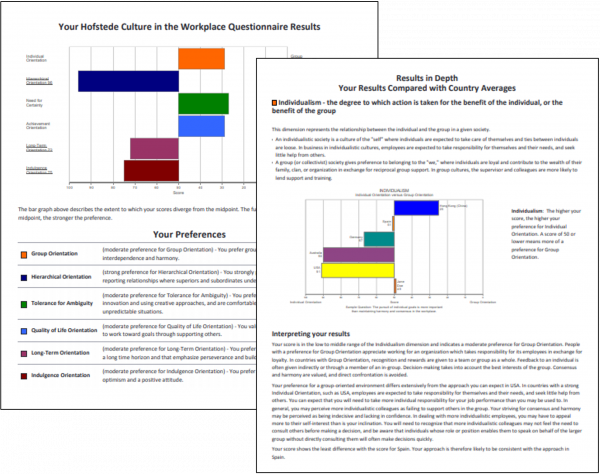 Discover Organisational Culture Preferences
Gain valuable insights on your Team & Organisational preferences across business units, locations and even functional teams.
Discover and understand preferences of up to 15 different workplace behaviours such as Decision Making Styles, Leadership, Change Process (to name but a few). These scores can be plotted to compare against individuals, teams and even up to 15 countries.