Cross-culture adaptability: skill of the future – Why be Hofstede CWQ certified?
Establish common cross culture language and profiles to facilitate global team effectiveness by personalising cross-culture orientation profiles to facilitate individual action
Accelerate development of a global mindset and enhance productivity and drive business results
Re-calibrate business processes and practices by considering how cross culture impacts the working environment
What some of our Hofstede CWQ Certified Associates have to say
After nearly two decades of working in an international environment, the Hofstede Culture in the Workplace Questionnaire™ has finally provided me with a data-driven, reliable and intelligent framework, highlighting my own cultural preferences to compare with those of other countries. Through the "Hofstede CWQ lens", I'm equipped to notice clients' and colleagues' cultural preferences and therefore able to effectively adapt my own communication style to match theirs. This proves to be an invaluable skill that has helped me in a multitude of events such as team building, stakeholder management, and client negotiations. I would highly recommend anyone working in an international environment to learn more about the CWQ and its multiple facets of a deeper understanding of national cultures.
It was a great honor for me to fly across the world to participate in the Hofstede CWQ Certification program. Not only did I learn professional knowledge and application methods for my work, but I also met a group of peers to exchange experiences with, even to this day. The Hofstede CWQ Certification program contains complete theory and effective tools that can help individuals and corporations in their transnational and cross-cultural work. It allows us to identify and analyze specific cultural issues from a global perspective, so as to help ourselves and clients recognize and overcome cross-cultural barriers to achieve efficient communication, cooperation and management, thereby achieving personal and corporate goals.
Prior to the Hofstede CWQ Certification Program, I have been working for multi-culture organizations within the education and government sector for several years. When collaborating with colleagues who have different cultural orientation, I always felt like there was "an invisible wall" that deterred highly effective collaboration and communication between my colleagues and me. After I attended the program, it facilitated me to transform that "invisible wall" into a set of tangible concepts and strategies. Namely, Hofstede CWQ reshapes the influence of how culture affects communication and collaboration within the workplace; and ensures that influence can be defined, measured and taught. These characters are pretty crucial to develop mutual understanding within the workplace context. It is also a process when transforming cross-cultural communication; from hard and implicit concepts into explicit ones.
I've gained valuable insights through the clearly explained dimensions and how to apply them in the best way for learning and motivation.
Great structure and quality of content. Top class facilitation with the dimensions explained clearly. I'm ready to use it to debrief coaching teams.
Certification Roadmap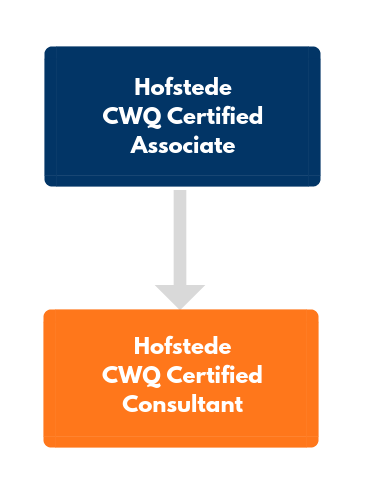 On successful completion of the examination, you will receive a Hofstede CWQ Certified Associate certificate endorsed by Prof. Geert Hofstede and signed by your Master Certifier and Academy for Mastery.
You will also have the option of continuing on to becoming a Hofstede CWQ Certified Consultant. The roadmaps of the certification processes are illustrated below.
Contact us to find out more about our Hofstede CWQ Certification Programs