Cross-culture adaptability: skill of the future – Why be Hofstede CWQ certified?
Establish common cross culture language and profiles to facilitate global team effectiveness by personalising cross-culture orientation profiles to facilitate individual action
Accelerate development of a global mindset and enhance productivity and drive business results
Re-calibrate business processes and practices by considering how cross culture impacts the working environment
Certification Roadmap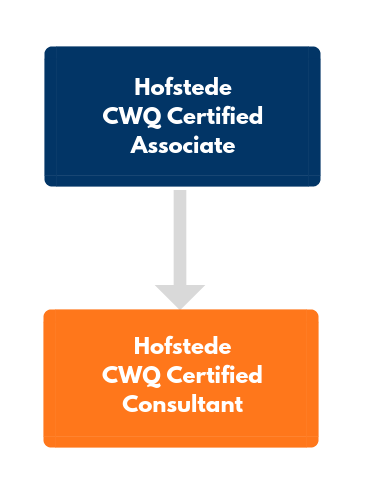 On successful completion of the examination, you will receive a Hofstede CWQ Certified Associate certificate endorsed by Prof. Geert Hofstede and signed by your Master Certifier and Academy for Mastery.
You will also have the option of continuing on to becoming a Hofstede CWQ Certified Consultant. The roadmaps of the certification processes are illustrated below.
Contact us to find out more about our Hofstede CWQ Certification Programs